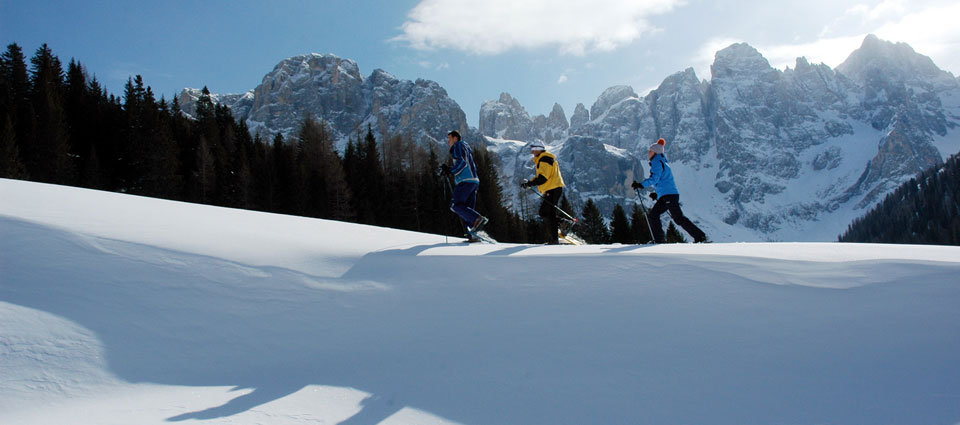 WINTER:
Thanks to its variegated winter sport offer, Fiemme Valley can be regarded as one of most attractive tourist destinations of Trentino-Alto Adige, as concerns downhill skiing as well as cross country skiing. What's more, the ideal position of Predazzo enable you to ski in 4 different ski-areas, all located within a distance of 15 km and connected with each other.
The SKI CENTER LATEMAR with its 50 km of ski-runs is located at a distance of 3 km from the hotel
The SKI AREA ALPE LUSIA (25 km of ski-runsin connection with Moena) is located at a distance of 5 km from di hotel
The SKI AREA ALPE CERMIS with 15 km of ski-runs is located at a distance of 12 km from the hotel
The ROLLE PASS is open every year from the 15thof November to the first of May
Besides that, in half an hour you can reach by car the ski-lifts taking you to the starting point of the famous FOUR PASSES SKI-TOUR in the heart of DOLOMITI SUPERSKI
With reference to cross country skiing, the cross-country trail of the well-knownMarcialongaCross-Country Race can be easily reached by foot from Predazzo. At the CROSS-COUNTRY SKIING CENTRE of Lago di Teseroyou can enjoy skiing alongthe official Nordic Skiing World Championship cross-country trails, while in the enchanting setting of LAVAZE' PASS you will experience cross-country skiing at an high altitude, surrounded by the wildest mountain nature.
As concerns no-skiers, many SNOWSHOES TRACKS have been prepared to let them enjoy the silence of nature, walking in the snowy-covered woods of Val Venegia, at the foot of the massif of Pale di San Martino.