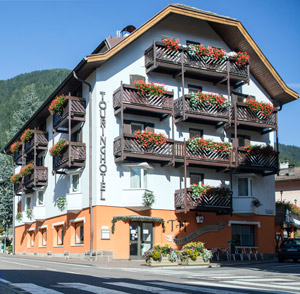 The Touring Hotel con boast on an ideal position. It is conveniently situated in the centre of Predazzo within the charming Fiemme Valley, in Trentino-Alto Adige.
For over 40 years we have combinedthe past local hospitality-tradition with a modern and dynamic management. Our first aim is that of meeting the quality needs of our guests. Hotel Touring offers highly comfortable accommodation, to be experienced in our different room typologies, and an attractive proposal for food and relaxation.
We specialized in organization ofboth winter and summer active-holidays in the unique, enchanting natural landscape of Dolomites.
We look forward to having you as ourguest: you will be the protagonist of a relaxing, amusing and regenerating experience to be spent in a comfortable, cosy and welcoming atmosphere…you will really feel as you were "at home".
Family Felicetti